NOTICE:We will have a vacation from January 22, 2020 to February 1, and will back to work at February 2, 2020...
Spring Festival has a long history in China. On the New Year' Eve, Chinese families will watch Spring Festival gala together, enjoying the merry time with parents and children.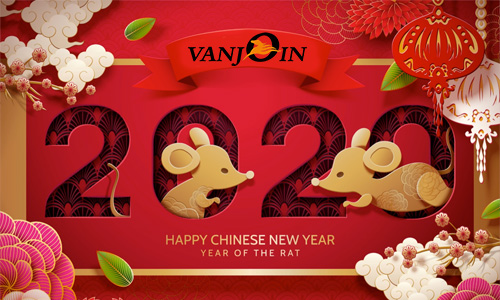 We also prepare our traditional food special for this occasion.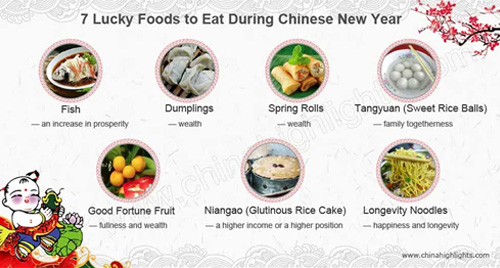 Dumpling is the most typical food for Chinese New Year's Day. The making of dumplings usually calls for every famliy members' participation. Someimes we hide one coin into one dumpling, the person who get this dumpling when we share the food will be considered luck for the whole new year.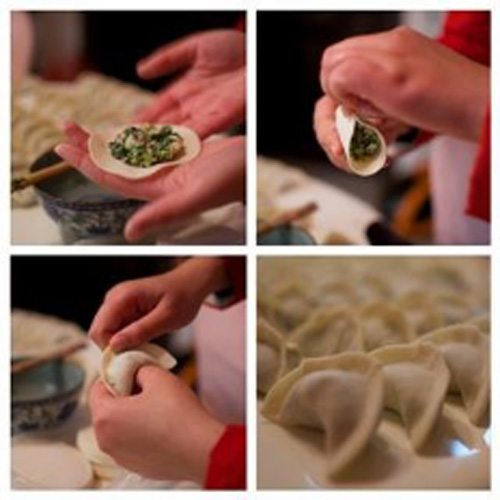 Vanjoin Group wish its staff and their families spend a happy, joyful holiday. And be fresh and energetic when come back for brand-new 2020 work goal!
Vanjoiners will soon embrace their New Year's holiday and have a precious moment with families and friends. The holiday starts from January 22, 2020 to February 1, 2020. We will back to work at February 2, 2020.
During this time,if you have any questions pls contact us immediately,so we can deal with it at the first time.
Vanjoin Group|In 2020, Vanjoin Group will accelerate steadily and create the future with you.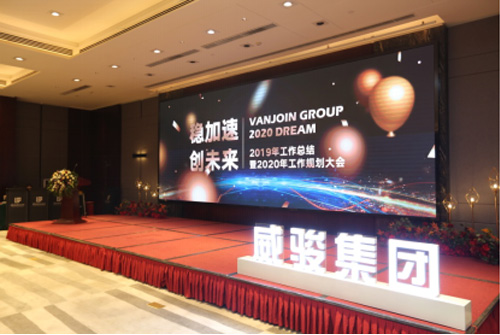 Time flies and things keep changing. The year of 2019 has been left a splendor page in no time. Our dreams and expectations for 2020 are surging as the new era comes along. On January 13, 2020, all the employees of the Wuhan Headquarters of Vanjoin Group gathered together to embark on a new journey.
Chapter one--Chapter 1--Review 2019, vision 2020.
On the morning of 13th this month, 2019 summaries and 2020 blueprint are made at the annual conference held at the Wuhan headquarters. The meeting also incorporated a documentary video for 2019 moments which was appreciated by all our staff.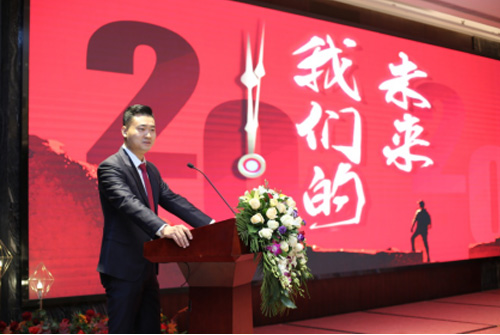 Mr. Xu Qi, Chairman of Vanjoin Group, delivered a speech and announced the Group's strategic plans for 2020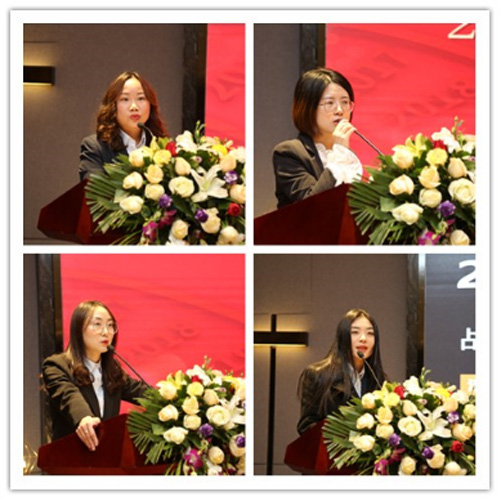 Leaders of each functional department of the Vanjoin Group headquarters of Wuhan conducted work reports for 2020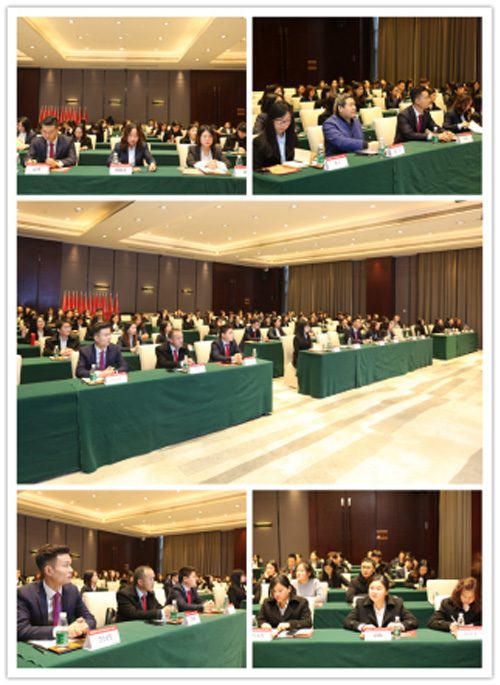 Participants listened carefully
Chapter two--Commendation for outstanding employees in 2019
The commendation of outstanding employees of the Year set 14 awards in five categories: performance, behavior, sharing, popularity, and team. More than 20 people were commended. The most remarkable time is the award of the "Personal Dream Fund of the Year". Six winners held their heavy cash prizes proundly, which is enviable. Later, we had two outstanding managers promoted at the promotion ceremony, which signaled the usher of a new chapter in their careers.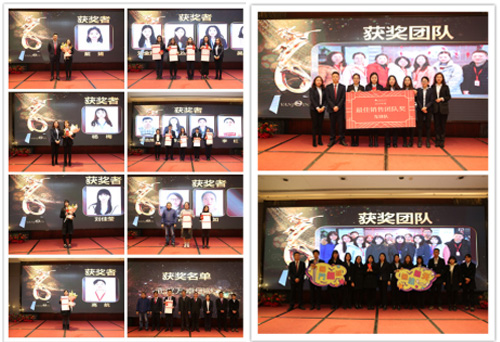 Winners take a group photo with honor certificate and bonus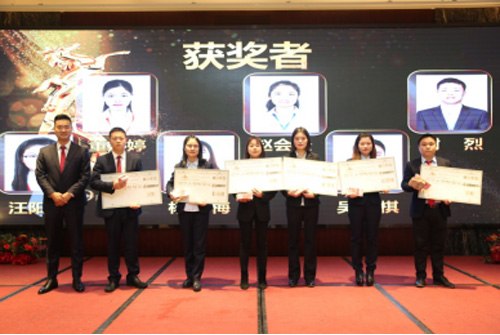 Winner of Annual Personal Dream Fund


Two outstanding managers hold promotion certificates
Chapter three--Military order for 2020
The future is bright, but the road to it is tortuous. Every member shares weal and woe with Vanjoin family. To strengthen each team's morale and establish their confidence for the followig battle, our Overseas Sales Division and all business functional divisions signed the"Mission Military Order"for 2020, ensuring that 2020's operation is always on the right track.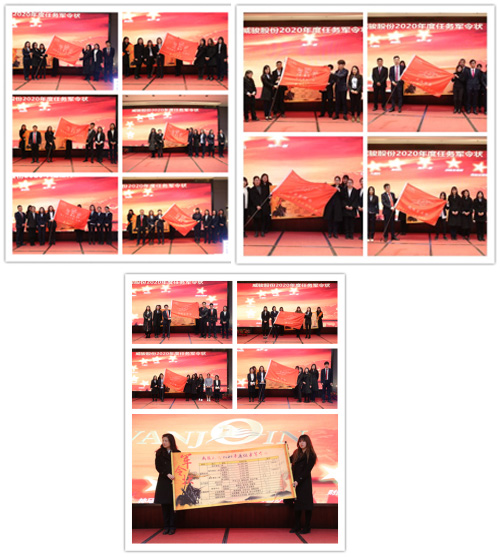 Signed the "Mission Order of 2020" and conducted the flag-confering ceremony
Chapter four--Watch the documentary "A day of Vanjoin Group"
The development and growth of Vanjoin Group is the result of the hard work of all people.At the scene, all the people of Vanjoin group watched the documentary series of "A day of Vanjoin Group" together,in order to understand the daily life of employees in different positions from different perspectives.The future of people is the future of Vanjoin Group.
Chapter five--Chinese New Year Dinner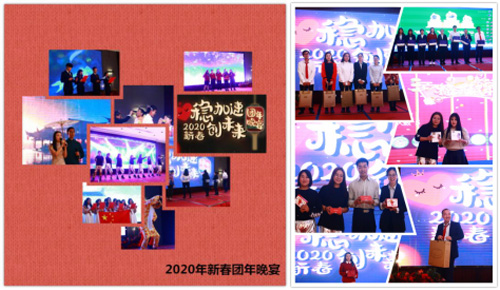 The annual party dinner was staggered. The wonderful performances of the various groups made the applause and screams constantly. Lotteries and games ran through them.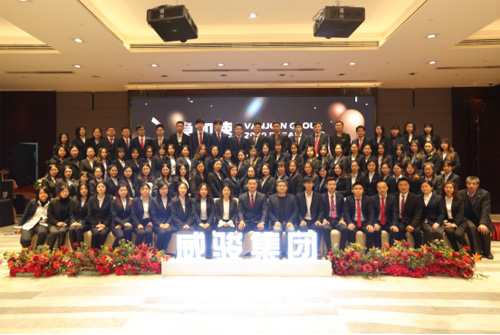 In 2019,during the rapid development of the green industry,Vanjoin Group follows the trend of the times and meets the challenges.When the new 2020 come, all the farewells turn into a force-Mid-stream hits the water, the perseverant enters!The journey ahead is long. In the new year, Vanjoin Group will follow the strategic goal of "steadily accelerate and create the future" and welcome a new dawn!
The Big 5 is a unique event combining 5 major exhibitions under one roof. More than 2.000 companies from 50 countries exhibited in The Big 5. One of the most commercially successful trade fairs in Dubai, a trade fair for construction and contracting.The Big 5 features National Pavilions from all major exporting countries in East and West, alongside the important local developers, contractors, importers and distributors.Vanjoin Group attended this exhibition in Nov. 2019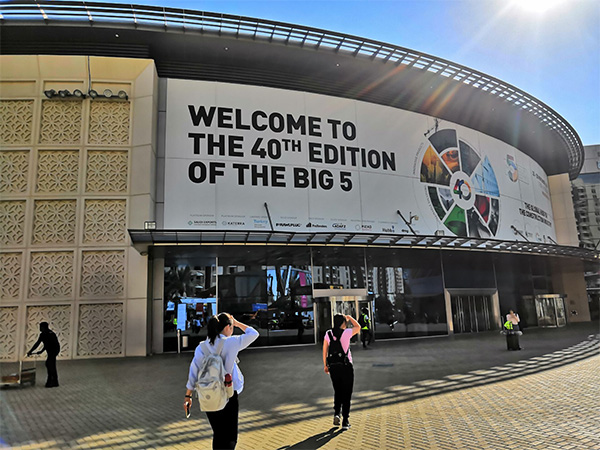 Below i will show you the pomp of this fair.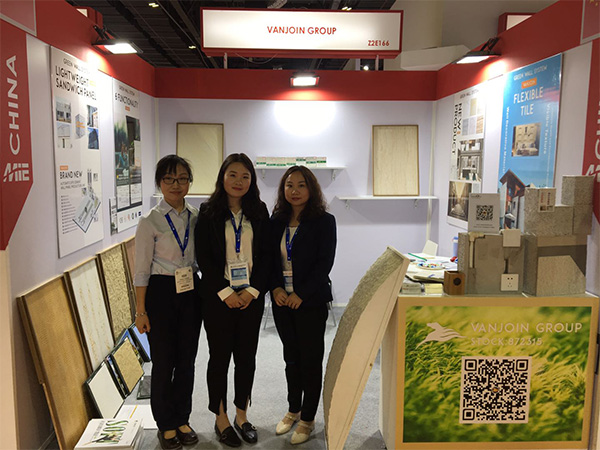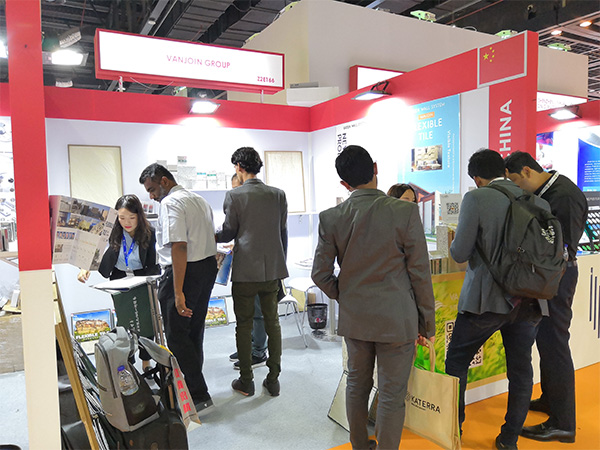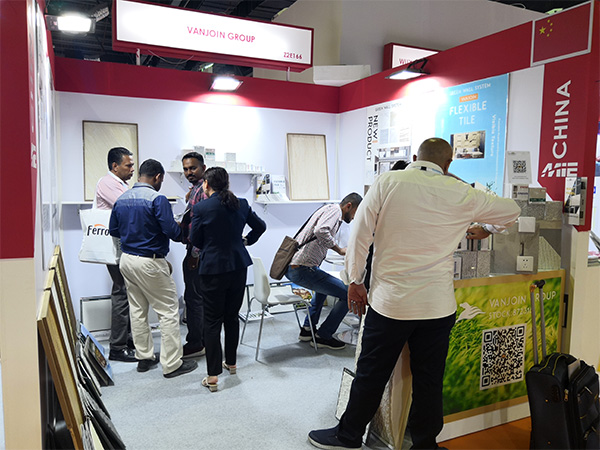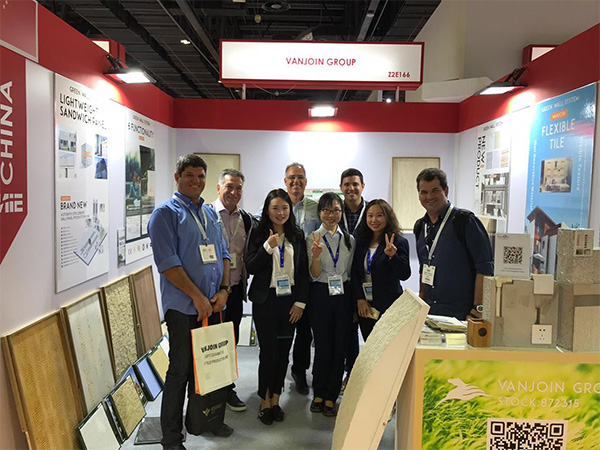 First of all, let us know what is flexible wall tile.
Fexible tile is a new energy saving high-tech ecological decoration material with state speciall support and dozens of patents, It adopts natural modified nineral powder as aggregates, green plant fiber and other natural polymers as reinforced materials, and is formed through light enzyme irradiation reaction. The whole production process realized zero emission and zero pollution.It is real new environ mental material, which can be widely applied to va rious architecture scenaries, thereby saving energy, recyclable, obtaining from nature and return to nature.
Natural modified mineral powder belongs to mineral substances, which has natural features of waterproof, not easy to get powdering and with its own colors, and it'shighly cohesive at same time, it can be polymerized for 3D crosslinked structure. With toughening effectofnatural plant fiber, it gives Vanjoin flexible tile excellent performance of natural waterproof, never powdering and long-lasting colors.
It has the features of good flexibility, good mechanical strength, good anti-mechanical impact performance, simple construction, good durability and strong sticking performance. As the color, structure, shape can be customized as customer's requirement, the architect and customer can image different style from different surface structure, the size of wall tile and color. Hence, it makes the interior and exterior decorative building material more colorful. Especially, the flexible wall tile is similar to traditional clay brick's structure and style, the flexible wall tile has high-tech, good performance and price. It's energy- saving product.
Below is the installation procedure: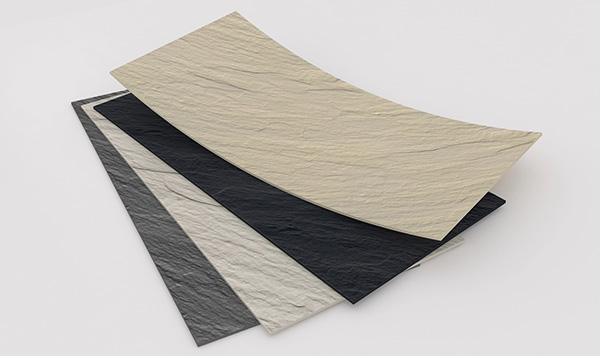 Construction Procedure
1. Basic Treatment
2. Trial place, flip line
3. Scraping the adhesive to the wallas a comb shape
4. Scraping thin layer of adhesive on the back of the product
5. Paste Products: Move press, on-line, flatten, brush seam
6. Using special grouts caulking
7. Finished products cleaning, conservation.
Construction Accessories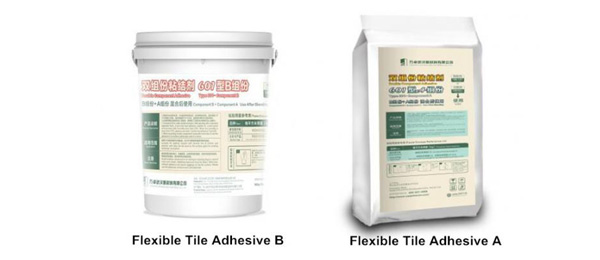 Construction Tools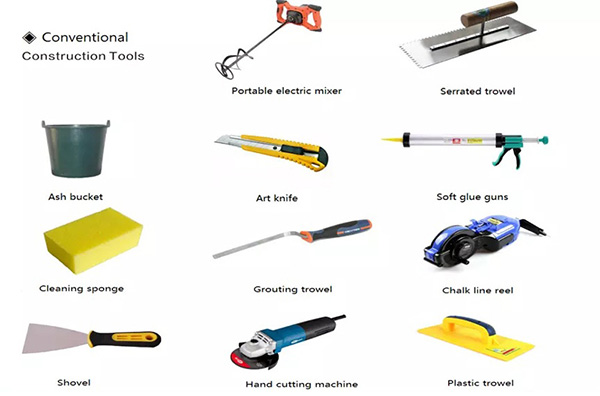 Installation of Flexible Marble and Stone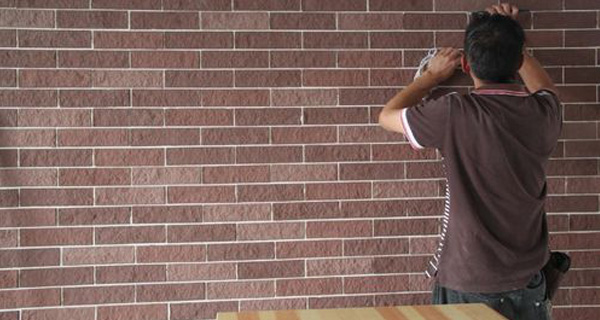 1.Basic face treatment
2.Setting the lines
3.Coating behind flexible wall tile
4.Stick soft brick tiles
5.Roll moving and pressing
6.Fill the joints
7.Jointing with steel bar
8.Cleaning the face.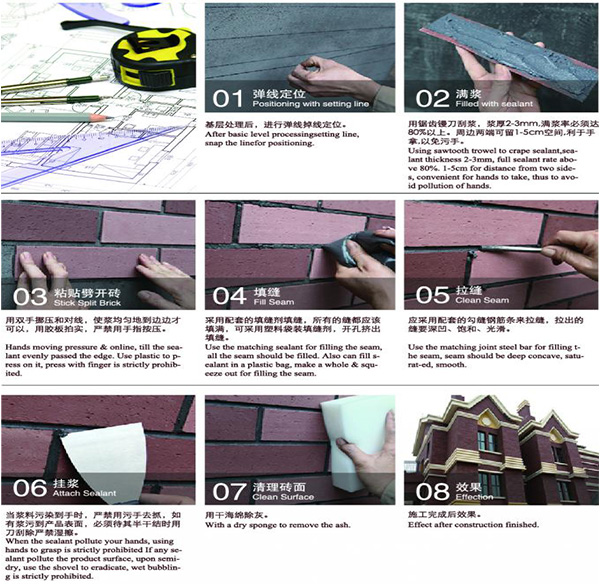 Flexible brick tile exterior/ interior wall decoration ( Residence, Villas, Hotel, Office Building, School, Hospital, Business Building, Background wall, Arced wall, Arched Column, Deformity Constructure, etc )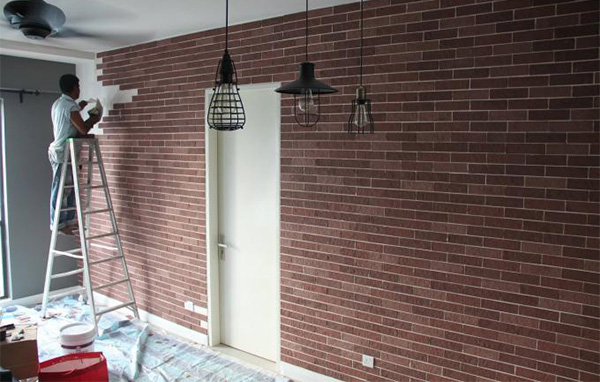 Q: What do you use to stick flexible wall tile to the surface?

A: Can use a specified cement adhesive to stick the flexible split brick to the surface of exterior wall.

Q: The weight of flexible wall tiles?

A: Its net weight is about 0.06kg/pcs for 60*240mm split brick.

Q: Color guarantee?

A: Its use lifespan is about 30~50 years.

Q: Temperature can this flexible split brick sustain?

A: It can sustain a temp of -60℃~60℃.

Q: Size of split brick can you produce?

A: Normal Size: 60mm*240mm and 100mm*240mm for optional, but can customize bigger sizes asrequest ( should smaller than 2.4*1.2m).

Q: Composition of your flexible wall tile?

A: Main materials are plasticizer, clay and mineral powder.
Download vanjoin's flexible wall tile(click the image to download the flexible wall tile.pdf)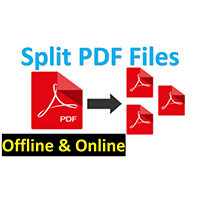 Sandwich panels are an example of a sandwich structured composite: the strength and lightness of this technology makes it popular and widespread. Its versatility means that the panels have many applications and come in many forms: the core and skin materials can vary widely and the core may be a honeycomb or a solid filling. Enclosed panels are termed cassettes.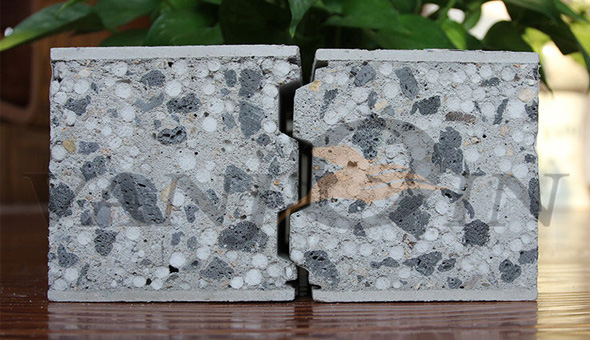 Nowdays energy-saving and environmental products are more and more popular.There are widely used in our life,especially in construction industry.
In building and construction, these prefabricated products designed for use as building envelopes. They appear in industrial and office buildings, in clean and cold rooms and also in private houses, whether renovation or new-build. They combine a high-quality product with high flexibility regarding design. They generally have a good energy-efficiency and sustainability.
Vanjoin sandwich wall panel is a green wall system.The light weight compound sandwich panel is a kind of light weight energy saving compound board,taking fiber reinforced calcium silicon board or cement calcium silicon board as surface panel,with cement,EPS/ceramsite/perlite, sand or fly ash as fillers,to be compounded at one time. The product can replace construction materials like red brick,clay solid brick, air brick,color-coated steel sandwich board,gypsum block,wire spatial grid structure perlite board,perite porous board,etc.It can be widely applied to various high and low building such as bank, office building,hospital,school, hotel,shopping mall amusementhall,portable dwellings,old house reconstruction,family house and workshop etc.
So far we have talked a lot about what makes up sandwich panels and some of the characteristics that make them different, but why should you choose sandwich panels in the first place? What's the benefit of using this wall system over others?
The biggest benefit that Vanjoin's sandwich panel system provides for you is the cost savings of a mass-produced product that is still able to remain highly flexible.
In addition,it's lightweight,high resistance etc.like the image shows below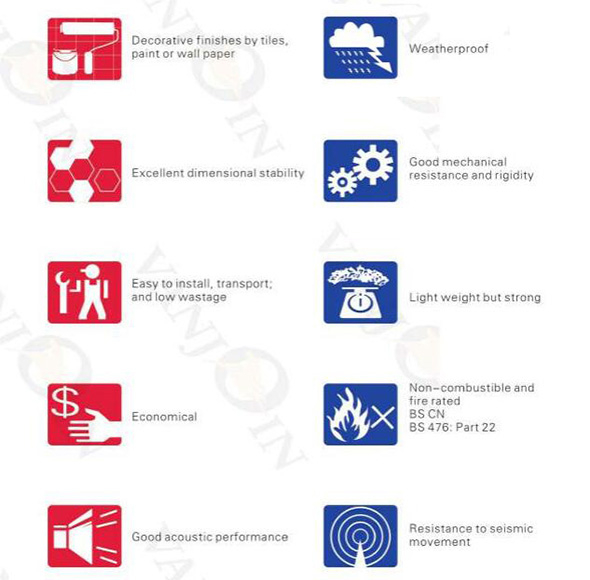 About the application of sandwich wall panel:
Name
Specification(mm)
Weight (kg/m² )
Packing(pcs/m² per20' GP)
Application
VJ Light Weight Compound Sandwich Panel
2270x 610x 60
45~48
315pcs/436m²
Roof
2270 x 610 x 75
50~53
252pcs/349m²
Interior walll
2270 х 610x 90
55~58
207pcs/287m²
Interiorl/ Exterior wall
2270 x 610 x100
60~65
189pcs/262m²
Interiorl/ Exterior wall
2270 x 610 x120
65~75
153pcs/212m²
Exterior wall
2270 x 610 x150
80~90
126pcs/175m
Exterior wall
Remark: All kinds of panels can be customized by customers' specific requirements, such as density and length of panel.
1.Floor system
Vanjoin light weight compound sandwich panel can be innovatively used as floor board. Besides the basic characteristics like sound insulation, waterproof dampproof, this system has the outstanding advantages such as high load-bearing capacity, anti-static electricity, friction resistance, high strength, convenient for wire groove and water pipe inbuilt, corrosion resistance, no deformation, no split etc., which is much suitable for the fields including the floor plate of additional top floor, factory, workshop warehouse, etc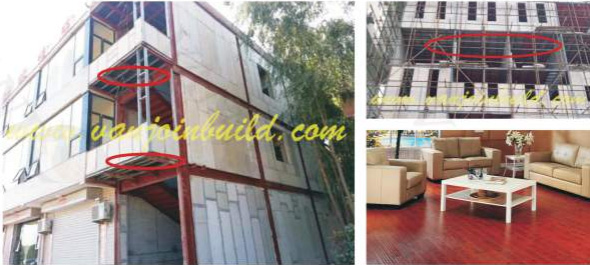 2.Roof system
Vanjoin light weight compound sandwich panel roof system brings brand-new added value and application idea to the traditional roof construction. This system not only solves the problem of roof leakage, but also has the advantages such as heat insulation, neat joint surface high temperature resistance, etc. The features of light weight and high strength reduce the use of roof beam column, reduce the consumption of materials, improve security; its easy construction and installation procedures greatly shorten the construction time, which bring out its high integrated pertormance-price ratio.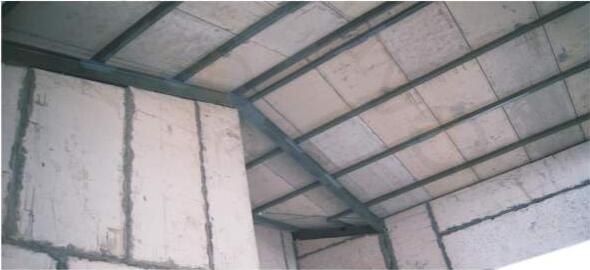 3.Interior partition system
With excellent fireproof, best hanging force, sound insulation, heat insulation, waterproof, easy installation and the like characteristics.Vanjoin light weight compound sandwich board have been widely applying to the special positions like partition panel of high-rise and mega-high rise buildings.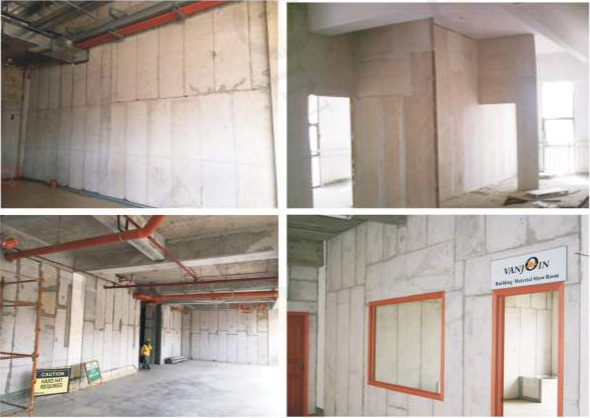 4.Exterior wall and villa system
Vanjoin light weight compound sandwich panel can automatically adjust indoor air and water content with the season and climate changes, which can keep the temperature at an invariable temperature level, and such ecology effect just goes with the tide of modern residential building. It is widely applied to various modular house, low buildings, apartment, villas, and city house, etc.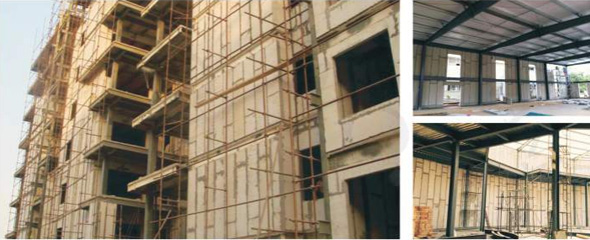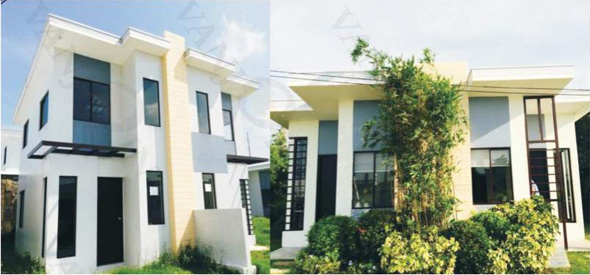 Download vanjoin's sandwich wall panel(click the image to download the sandwich wall panel.pdf)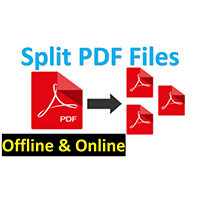 As the heavenly and joyful Jingle Bell song singing around our ears, here comes the Christmas. On the Christmas Eve, Vanjoin members' festival passion was all awakened up by a happy gathering. Bringing their well-prepared gifts and a delighted mood, everyone entered the venue and waited for the party, ready to have a blast.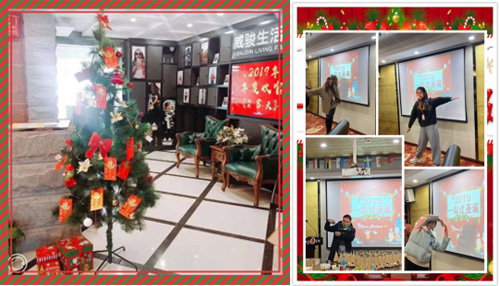 the "Act and Guess" game at the Christmas party
Warming up by two little games, the whole atmosphere rised lively. In one of the game, Act and Guess, members of each team cooperated and tried hard to perform out the numbers. There were no winner and loser, only the happiness at this time and this place was what we appreciated.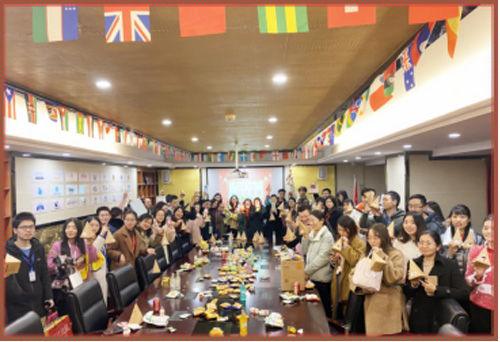 Sending our best wishes by gift exchanging
Gift exchanging is one of Vanjoin members' traditional activities for Christmas. "Angel Realizes Your Wish " is how we perform the activity this year. (That means each of us has an unknown person, your angel, who will prepare you a gift as you describe on he wish card.) The project turned out successful. Members were all good gift givers and received their own expected ones. More importantly, what we sent also conveyed sincerely care and love to each other. We can feel the connection is getting firmer in Vanjoin family.
Except these, every Vanjoin member was offered a pair of cute socks with Christmas feature. We hope this little gift can keep you a warm body this winter and also make you feel warm inside of your heart. I wonder if Santa Claus sends gifts into socks secretly?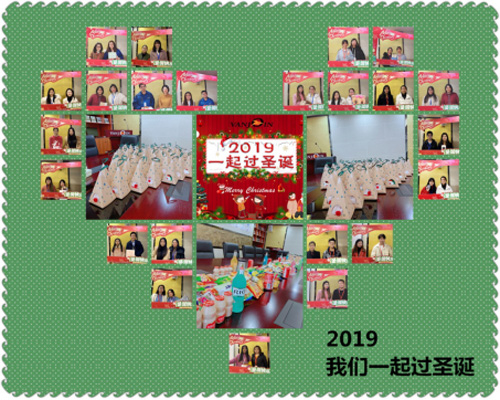 Christmas means to give and to be given. With Care and blessing from Vanjoin, this winter is no more cold. Vanjoin group and all its employees hope you still keep a heart of expecting surprises and exciting things in your fast busy life, and always receive best wishes!
In this bright and warmly winter, we have each other, and let's enjoy the happiness Christmas together!

Worldbex-Philippine International Building Materials Exhibition, founded in 1996, has been successfully held for 23 times. It is one of the most important building materials exhibitions in Asia and the largest integrated building materials exhibition in the Philippines. The exhibition has become an indispensable platform for the Philippines' construction and construction industry to show the latest products, share the latest information and exchange the latest technology.
Anyway Worldbex is the most effective way to develop the business relationships you need to succeed. It's no wonder that the materials exhibition has already become a must see for all those looking for business success.
Vanjoin will attend to the international building materials exhibition from Nov. 7 to 10,2019.We have varietied production such as green wall panel,flexible wall tile,wall panel production line,flexible tile production line etc.
Now we're warmly welcoming you to our booth and you will not regret to be here!
Below is the information for you
Time : Nov. 7 to 10,2019
Booth NO. : 515
Location : SMX CONVENTION CENTER,MANILA,PHILIPPINES &WORLD TRADE CENTER
Tel : +86 136 5729 0777
Any inneed pls contact us and look forward to meeting you!
Vanjoin·Public Welfare·Processing ||Vanjoin Group"Love in Vanjoin" Public Welfare Activities- Embrace Green Field and Blue Sky
On October 27, 2019, Vanjoin Co., Ltd. held the "Love in Vanjoin" series of public welfare activities to embrace the green Field and blue sky activity, which was carried out as scheduled in the picturesque Hanjiang Bay Sports Park. The event aims to further enhance the people's awareness of environmental protection, from the little things around, starting from individual behavior, at the same time feel the charm of nature, but also for us to make contribution to our homeland.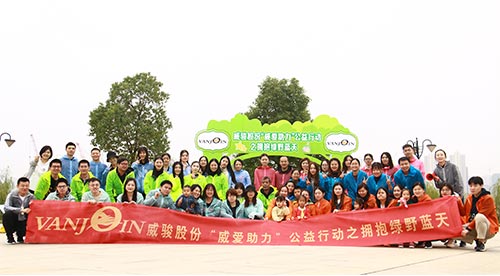 At 9 o'clock in the morning, all the staff of Vanjoin gathered in Hanjiang Bay Sports Park. After the ice-breaking interaction between the two teams , the series of activities with the theme of "embrace the green field" was launched in the morning.
Everyone took action according to the previously assigned group, and took garbage bags, garbage clips and other tools to clean up outdoor garbage in the park .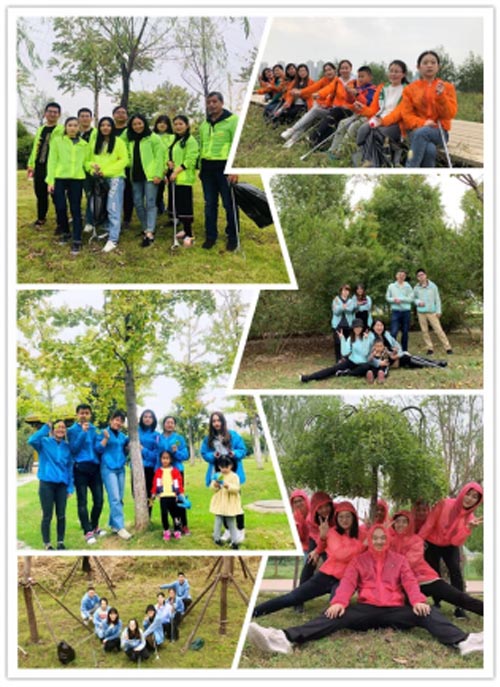 (Team photos with "green" idea)
After a morning of unremitting efforts, the seemingly clean park has been cleaned up with a lot of rubbish, and it made you to think deeply. The earth needs us to care more.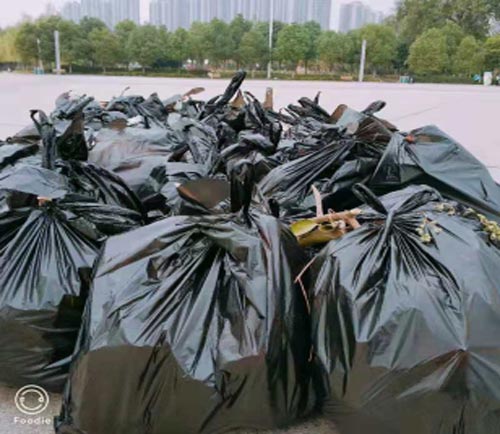 (Vanjoin Environmental Protection Guards cleaned up more than 30 bags of garbage for Hanjiang Bay Sports Park)
After a simple and nutritious lunch and a little rest, I started a series of activities in the afternoon with the theme of "embrace the blue sky". Everyone gathered together, played games, ran and jumped in the clean environment, and laughter rippled over the park.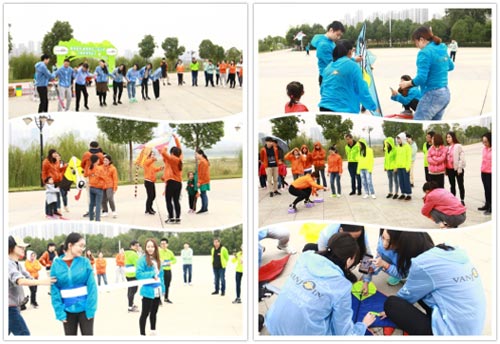 (Teamwork, healthy exercise)
Garbage classification can be said to be a recent new trend. Whether it is the garbage classification implemented in Shanghai some time ago, or the garbage classification that will be implemented in Wuhan , it has caused widespread discussion. Thistime, we also use the game of garbage classification, entertaining and learning, and learn environmental protection knowledge with everyone, and strive to be qualified environmental protection little guards!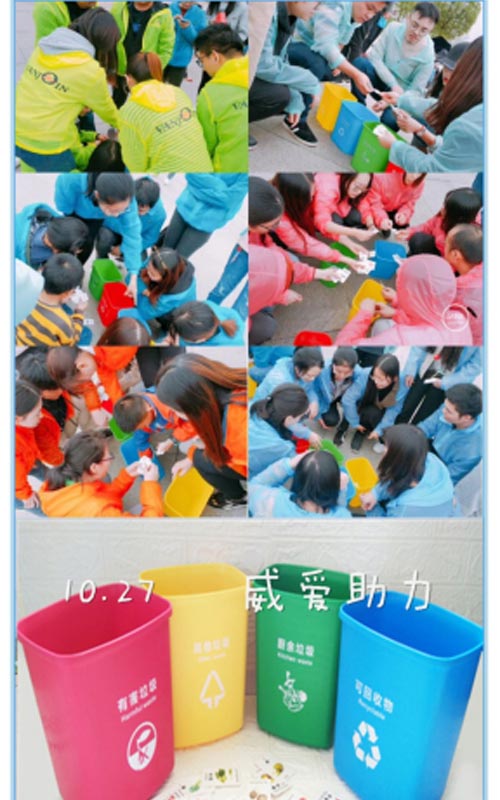 ( Education and fun, carry out garbage classification game )
Finally, our set of clean-park trash most of the team, as well as various aspects of the winners who carried out the awards. Of course, in the spirit of caring for the environment and protecting the homeland, every partner should be NO.1!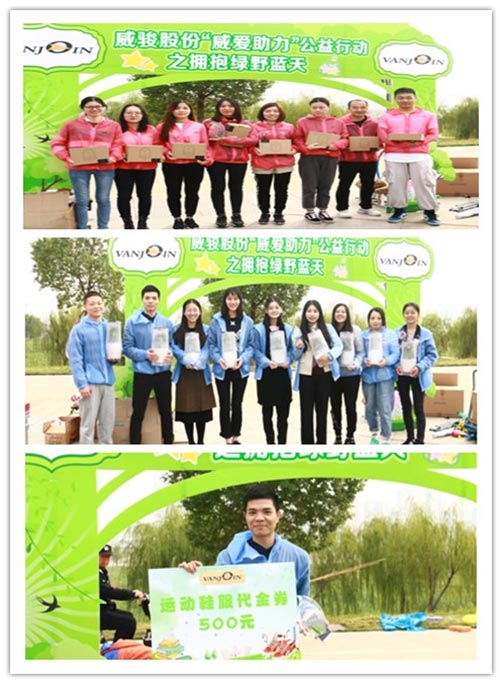 (Award for those who performed well for this event)
The happy time is always short-lived. In the blink of an eye, today's public welfare activities are nearing completion, and the "Love in Vanjoin" public welfare activities-embraces the green Field and blue sky activity. Although the activities are over, the pace of people's love of their homeland and the protection of the environment will not stop. We walk into environmental protection, close to nature, to do their part for home, to protect the earth's environment, advocate the concept of green environmental protection contribution.
This is precisely the company's positive response to the national call, keeping up with the pace of green environmental protection, has been advocating the pursuit of the "Use technology give the earth more green" corporate vision , I hope that Vanjoin can shares with you, with him , with each people join hands to add the earth more green!

Canton Fair is the largest biannual China trade fairs, It shows of any kind and held in Guangzhou (Pazhou Complex).
As the economic developing of import and export in China, The Canton Fair is known to more and more people,especially for importers and exporters.
Canton Fair is the most effective way to develop the business relationships you need to succeed in China. It's no wonder that the Canton Trade Fair has already become a must see for all those looking for business success in China.
Vanjoin will attend to the 126th Canton Fair from 15th Oct to 19th Oct 2019.We have varietied production such as green wall panel,flexible wall tile,wall panel production line,flexible tile production line etc.
Now we're warmly welcoming you to our booth and you will not regret to be here!
Below is the information for you
Time : 15th Oct ~ 19th Oct 2019
Booth NO. : 9.2E03-04
Location : the pazhou exhibition center
Tel : +86 136 5729 0777
Any inneed pls contact us and look forward to meeting you!
Happy 2019 Mid-Autumn Festival
Tomorrow is our traditional Mid-Autumn Festival,Hope everyone have a nice time!
We will have 3 days vacation from 13th sep to 15th sep.And most of us will go back home to get together with our families.16th sep we will back to work as usual.
During this time,if you have any questions pls contact us immediately,so we can deal with it at the first time.
Best regards for you!
Wuhan Vanjoin Import & Export Trading Co,.Ltd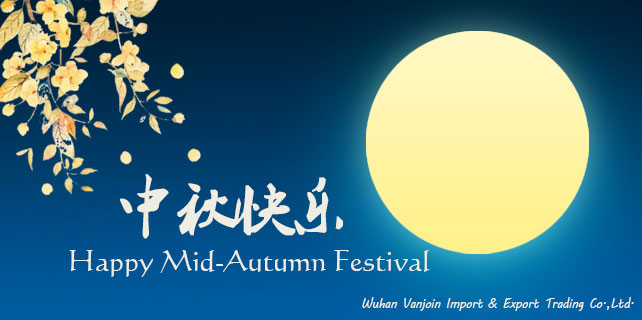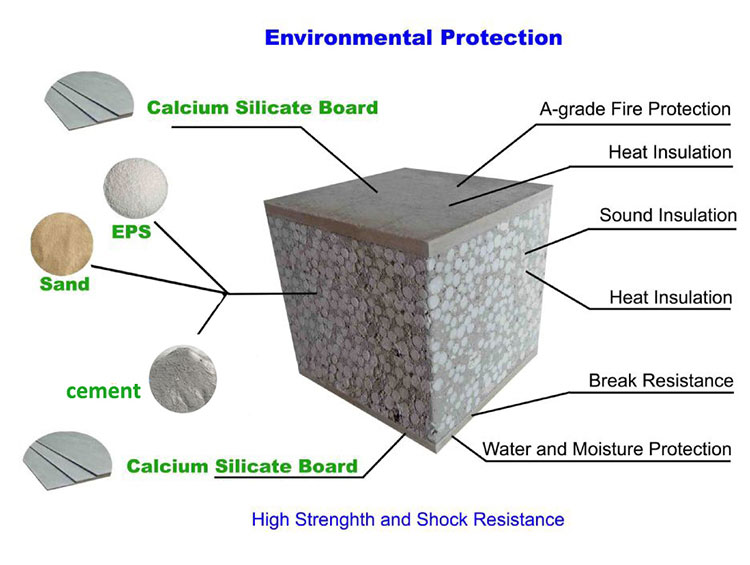 1. Light weight---1/6 of traditional brick
2. environment-friendly ---100% not abestos
3. Area-saving --- save 4 m² / 100 m² (compare with tradition building materials)
4. Waterproof and damp proof ---see photos below
5. Fire-proof --- 4 hours 1000 degree without damage; GB/T9987
6. Sound-insulation ---38dB for 60mm, 46dB for 150mm
7. Best hanging force---single point hanging strength: 50kg
8. Anti-seismic and impact resistance--- aniti-earthquake class 7
9. Heat Insultation and preservation---temperature differences between indoor and ourdoor 5 ℃
10. Thermal insulation
11. Fast/easy construction, Low Labor: two experienced workers 50-80 square meters/day
12. Long life usage: 70 years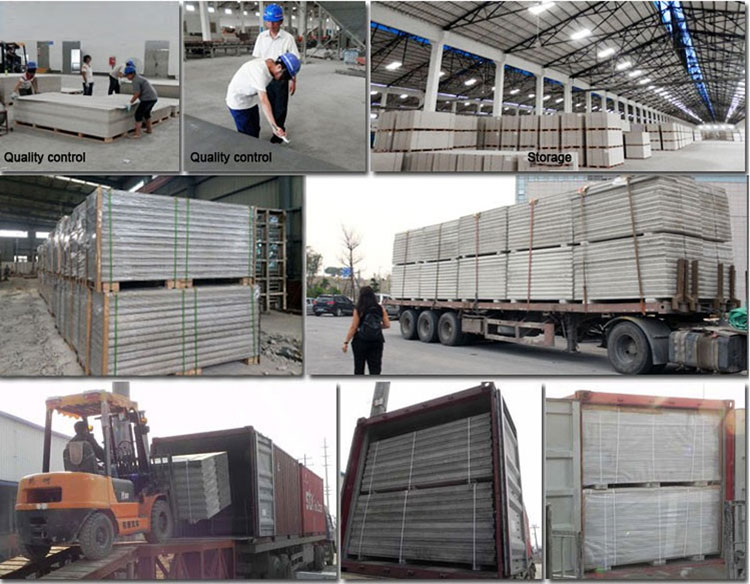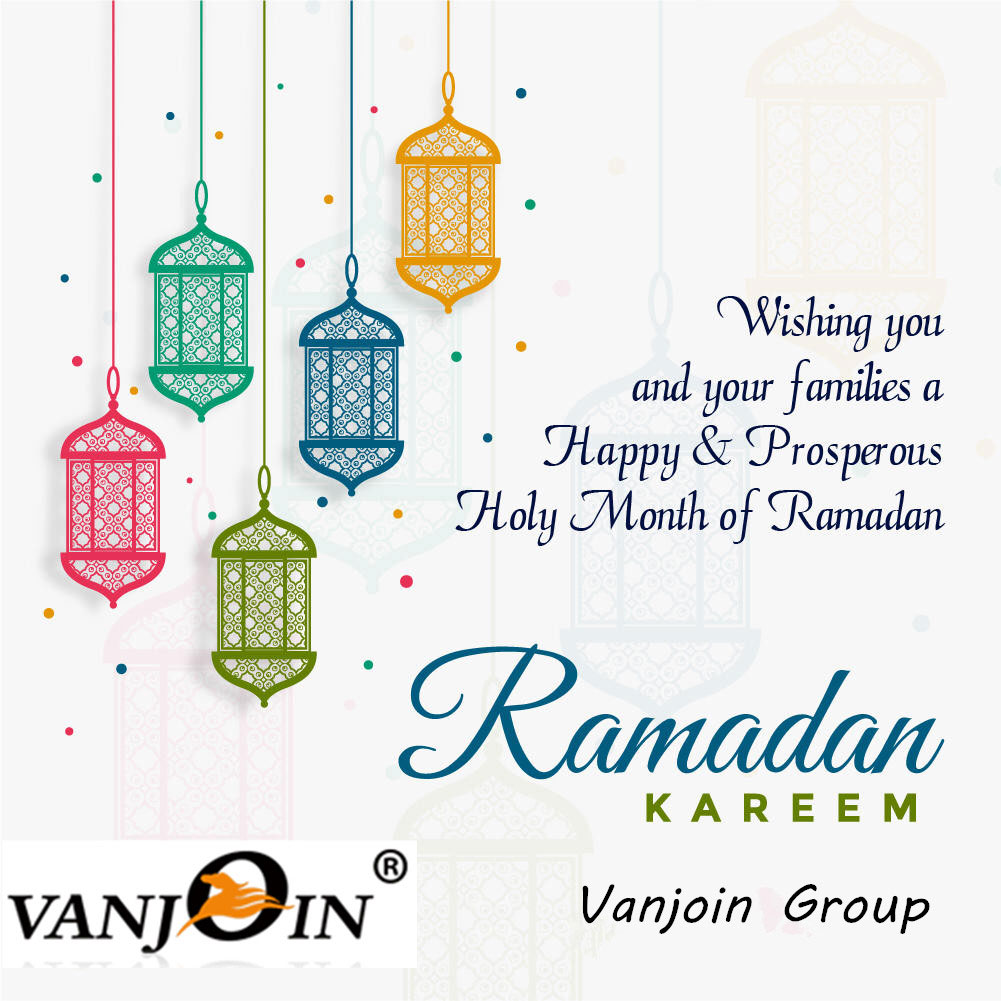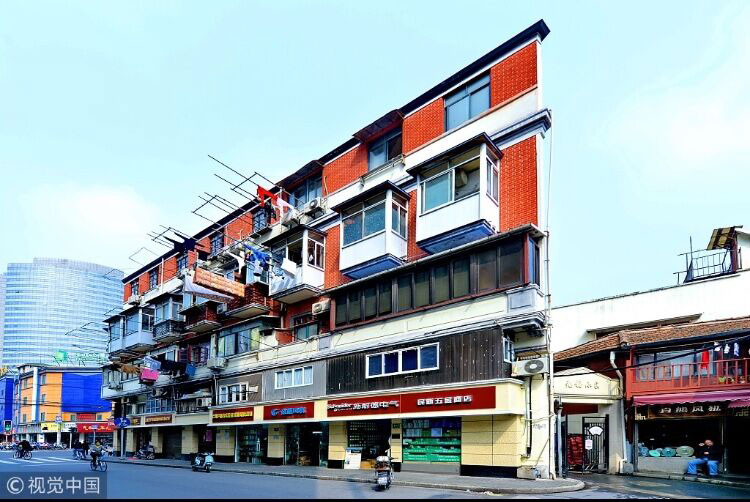 Recently, a "paper building" in Shanghai won sudden fame online. Of course, it's not actually built by paper, but shockingly "thin" in shape.
The thinnest part of the residence is only a brick-thick, about 20 centimeters.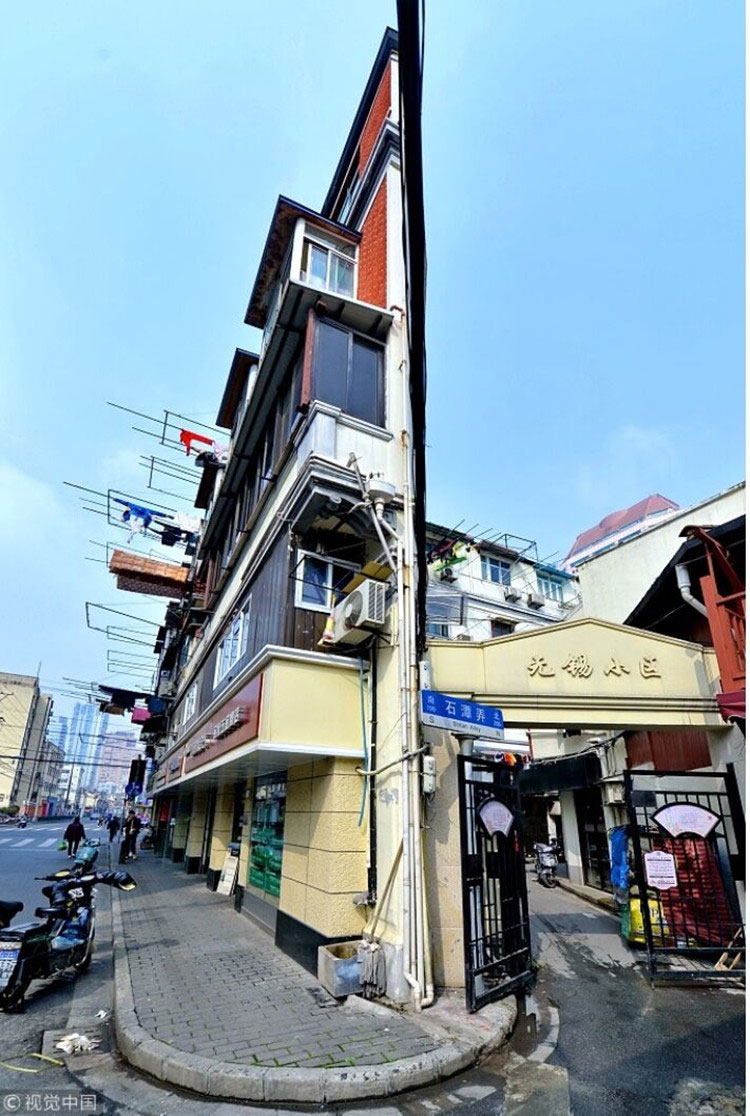 Though looks terrifying, according to local people, there seems to be nothing to worry about the safety of living inside.
The fact is, the whole building is like a 3D check mark. One can easily see the structure from a different angle.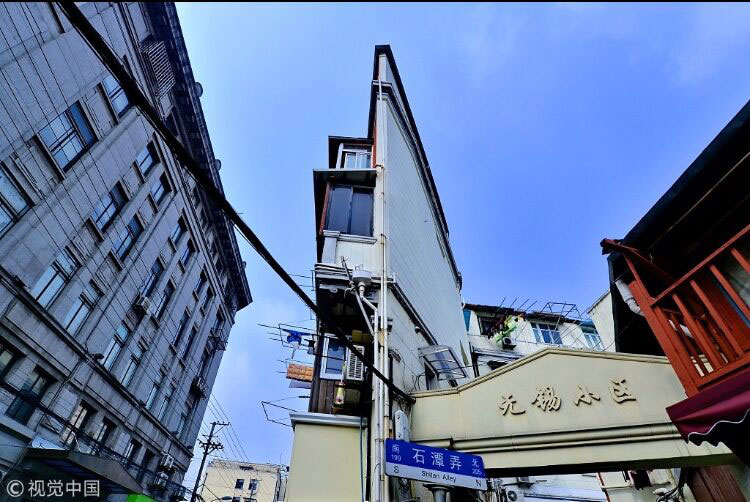 Locates on Ningbo Road, Huangpu District, the rising scenic spot is only about 20-minute-walkfrom the Bund.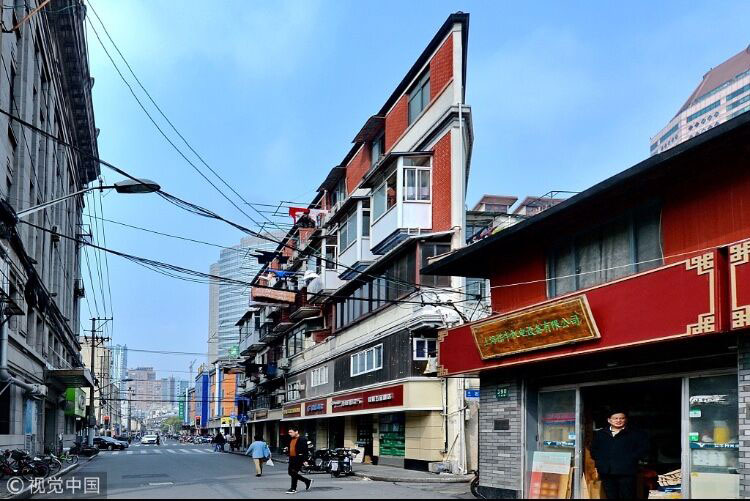 Full of historic significance, the unique buildingis over 100 years old. Many tourists and local citizens are attracted to the "paper building".

Fast construction Vanjoin flexible #brickscladding suitable to use on interior, #exteriorwall and ceiling decoration, and be friendly alternative to the traditional #CeramicTile, #NaturalStone, #Paintings etc.
It's waterproof, fireproof, bendable, thin & lightweight, homogeneous & non-fading. Vanjoin different texture can achieve your imagination #architecturaldecorative effects of Natural Stone/ Wood/ Brick/ Leather Tile etc.
Green wall solution, full catalogue, technical details, prices can be provided.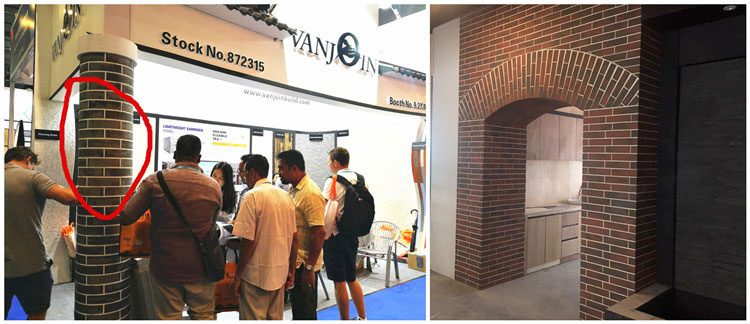 Lightweight, Durable, Versatile, Timeless. Defined by its #rusticsurface, our sustainable bendable #thinbricktile is a favorite among designers and architects for the distinctive texture it brings to both indoor and outdoor #bricktile installations.
Discover over 35 hand-applied models and styles ranging from red brick to #woodgrain tile of color. Choose up to 6 free color samples, shipped directly to you.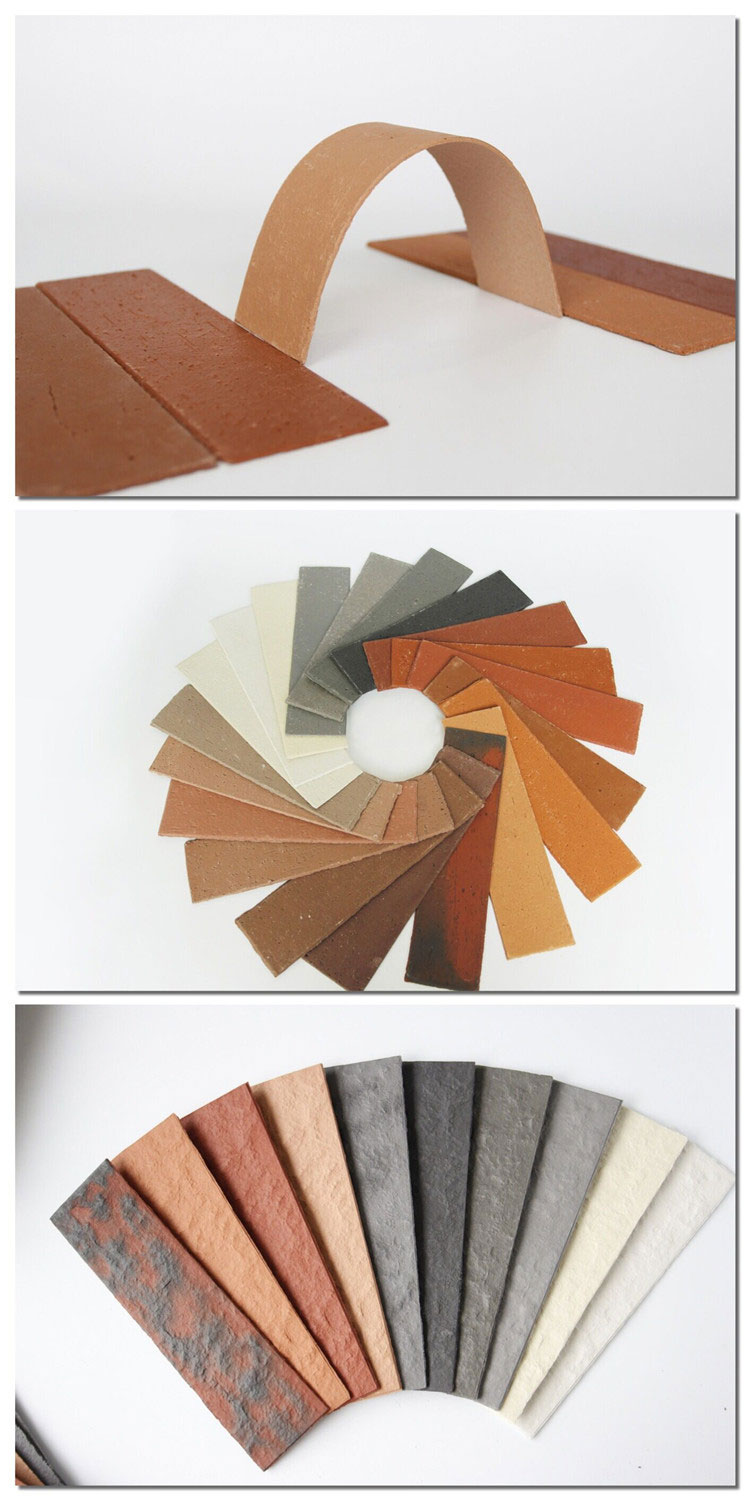 Flexible Brick Tile
One of our oldest and most beloved materials takes on a colorful new look with 10 standard colors to choose from. Brick tile is made by one of our manufacturing partners, who is carrying on a innovation of decorative tile making. creates a flexible, light weight, easy to clean and colorful surface suitable for the smallest and largest projects on your list.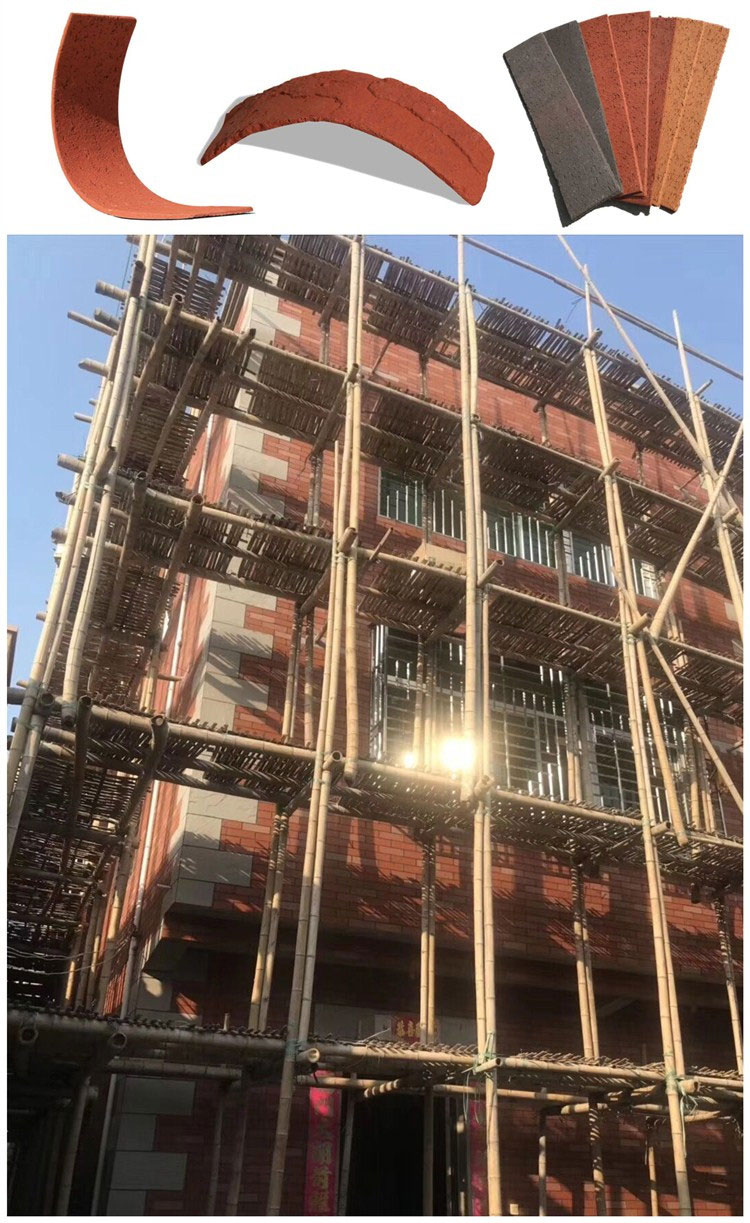 Source new innovative tiles and eps panels during March Expo and discover the incentives we have lined up for one of the biggest sourcing tiles of the season.
Mark your calendars and checkout the deals at: https://lnkd.in/f435rtC
#AlibabaMarchExpo #greenwallbuildingmaterial #wallcladding #flexiblewalltile #naturalstone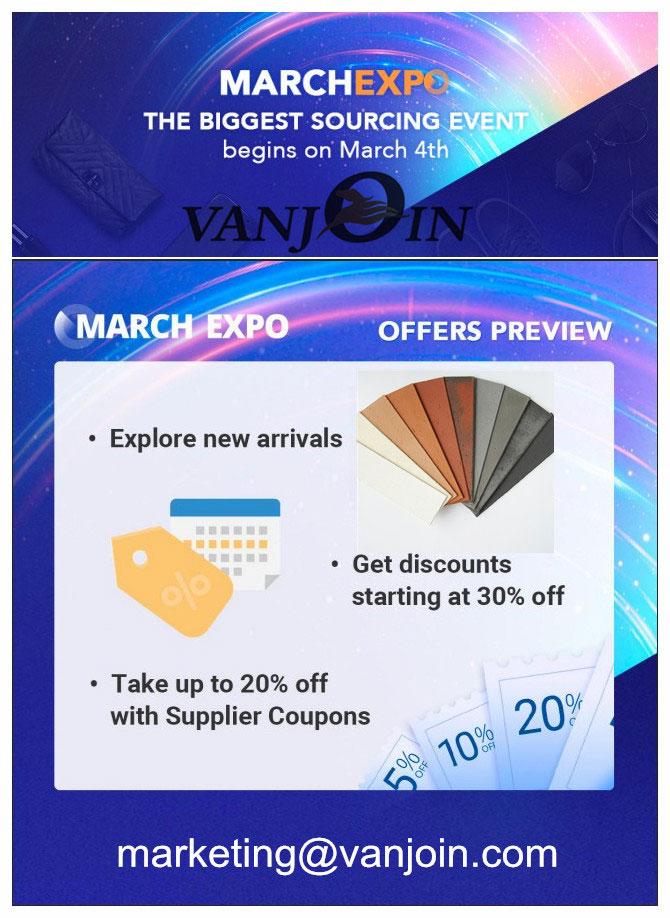 Project Case - Prefabricated Villas Sandwich Panel
Lightweight partition panels are more compatible with steel fram structures. Lightweight partition wall panels can not only meet the requirements of precast industry, but also have the advantages of light weight and energy saving. Therefore, steel structure buildings generally prefer to use lightweight partition wall panels as the exterior and interior partition wall materials, which can greatly reduce the wall material to steel structure's bearing requirements.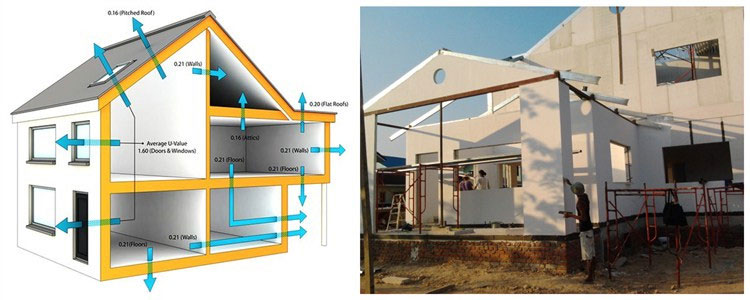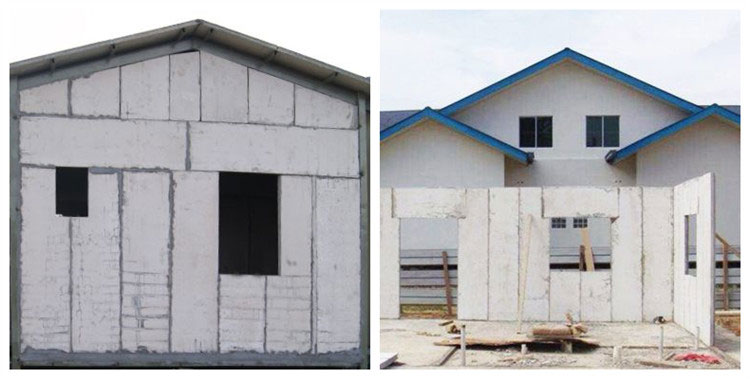 Project Case - Hospital Concrete Partition Walls
This time is the construction of the partition wall of the hospital. It started on October 20th and has a construction period of 100days. Total engineering volume is about 70,000 square meters. 90mm wall panel can achieve the effect of sound insulation 43DB. 150mm wall panel is more remarkable, giving the hospital and the patient a relatively quiet environment, which is conducive to the patient's body. In terms of fire proof, vanjoin wall panel has a fire resistance limit more than 4 hours at a high temperature of 1000 degrees Celsius, and does not emit toxic and harmful gases. The non-combustible performance meets the national A-class standard, and the vanjoin wall panel is safer and more reliable.
Vanjoin lightweight partition wall panel is a prefabricated construction, and the construction efficiency is several times that of the masonry. The construction process only needs to be accurately placed, it is simple and easy to operate! The average height of a wall below 4m can be more than 35m2 per day for a skilled worker, and the double-sided of the wall panel does not need to be plastered again. After the installation, other decorations can be synchronized, which can greatly shorten the construction period. Lightweight wall panel can be cut and adjusted according to the needs of the building structure, reducing the material consumption rate and construction waste, achieving simple transportation, stacking hygiene, no need for mortar squeezing, shortening the construction period, and the construction efficiency is 6~7 times that of the general masonry. .
Hospital light wall panel project After the wall finishes.



Hotel Project Case - Insulated EPS Panel
The project is located in a hotel in Wuhan, with a combination of steel structure and lightweight partition panels, and is layered upstairs. The vanjoin lightweight composite wall panel has the characteristics of heat insulation, waterproof and sound insulation, high construction efficiency and environmental protection. It is very popular in the catering industry, high construction efficiency, lower overall construction cost.
Let's take a look at the site:
Steel structure building eps cement sandwich panel.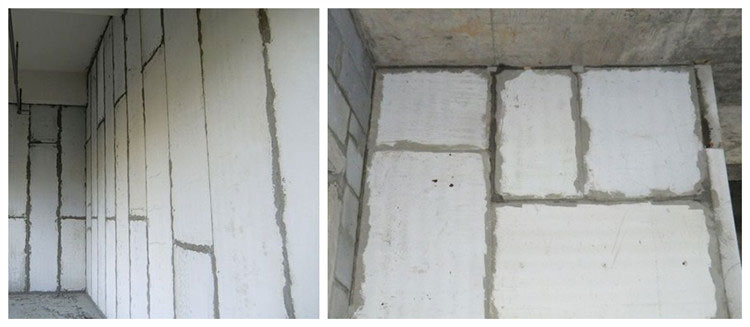 2019 Good-luck of beginning

February 12 markes the 8th day into the first month of the lunar New Year, also moral seans of wish everyone has a wonderful beginning.

A new Year
Let happiness release
Let happiness show off
Let good luck continue
2019
Start your busy struggle
Must play the spirit of 120 points
Use the best attitude
Create a more brilliant tomorrow!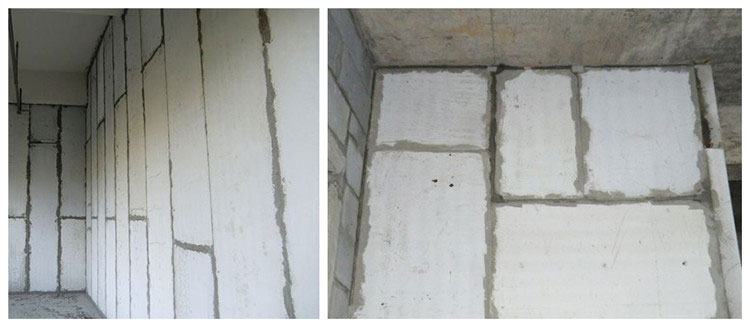 Vanjoin 13th anniversary annual celebration has been successfully concluded on 28th January. Vanjoin Family is full of enthusiasm, dedicated attitude, craftsman spirit, using action to interpret Vanjoin style.

At the beginning of the annual meeting, Chairman Xu make a speech with the theme of vanjoin living, and lead us to review 2018 and look forward to 2019.
In 2018, vanjoin insits on the mission - give more greeness back to earth by technology. Continuously optimize and improve the organizational model structure, allowing vanjoin to successfully complete its annual goals in a tough market environment.
2019 is a new year with opportunities and challenges, and it is also a crucial year for decisive success. Vanjoin will continue to focus on energy conservation and environmental protection, continue to deepen scientific and technological manufacturing, and promote the integration of technology and industry, achieve leap-forward development, and focus on excellence.
Show & Games

Honor and commendation
The development of vanjoin is inseparable from the support and dedication of all Vanjoin people. There are vanjoin stars who have been actively contributing to the company in the near future. there are outstanding staff and employees who have excellent performance and dedication. . . Today, the honor of the vanjoin group belongs to every Vanjoin person.

Delicious dinner
This is both a visual feast and a feast of taste. At the end of the show, the dinner began, everyone talked in the dinner, and toasted together, wishing vanjoin better and better!
Grateful encounter, grateful to have you!
In the future, let us work together!

5. 3D cladding
3D cladding has become increasingly popular in modern architecture. However, I think 3D cladding design can be the marmite of the design world; you either love it or you hate it. I have seen some truly stunning projects using 3D cladding and walls and then I have seen some horrible ones. Nevertheless, the creativity taking place by using bendable materials is to be admired.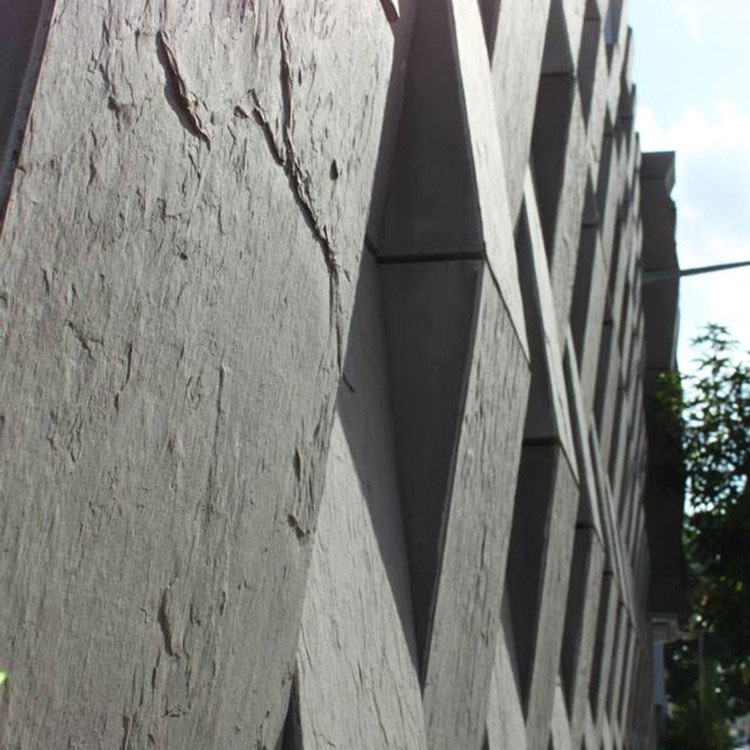 6. Metal cladding
Metal cladding can be a great supplement to your wall cladding design providing that modern, industrial look and feel. It is also very useful for incorporating bold colours into the project.
7.Concrete cladding
Precast concrete cladding is formed by off-site by manufacturing precast concrete panels. These panels can be used for a wide in a wide range of applications. Besides it's structural benefits, concrete cladding can be a great way to incorporate sculptured shapes into your exterior cladding design project.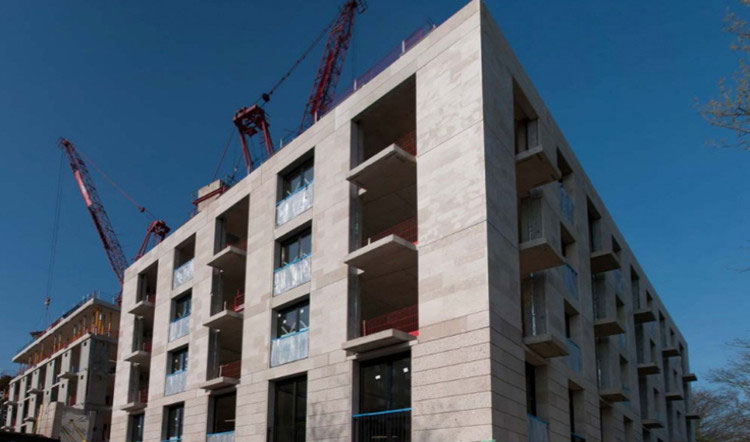 8. Composite cladding
Composite cladding is a great alternative to timber cladding. Typically made from a combination of recycled wood and plastic, composite cladding combines the traditional appearance of wood with the durability of an engineered composite.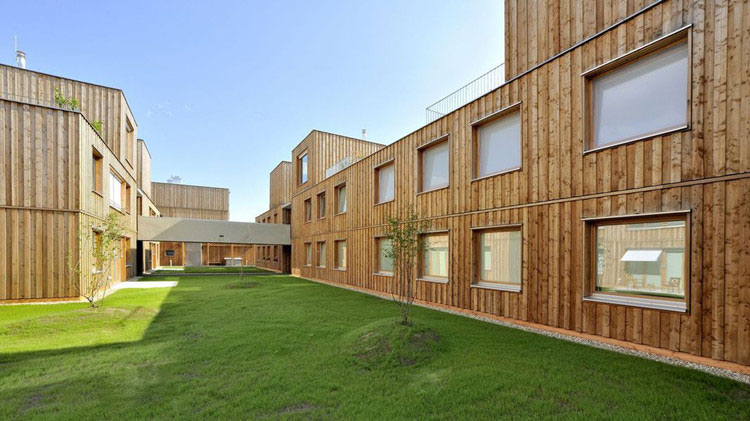 9. Metal mesh cladding
There is no double that metal mesh cladding design has it's very own unique look. An extremely versatile material, metal mesh cladding is great for shaping different designs to form interesting architectural designs. It can also be effectively used for wall cladding design elements like privacy screens or sun protection.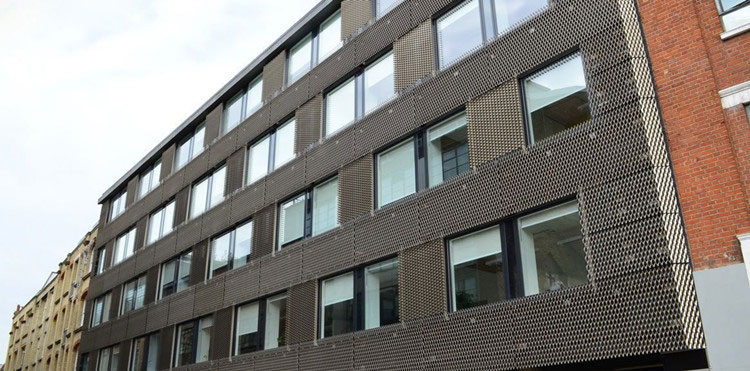 10. Solid surface cladding
There is no double that metal mesh cladding design has it's very own unique look. An extremely versatile material, metal mesh cladding is great for shaping different designs to form interesting architectural designs. It can also be effectively used for wall cladding design elements like privacy screens or sun protection.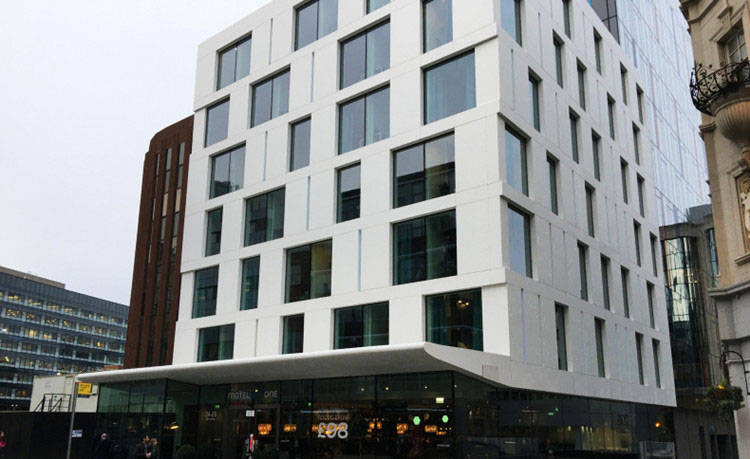 Exterior wall cladding design has evolved quite a lot over the past decade. Once upon a time, the brick was seen as a basic component to the building but more recently, it has become the designers colour palette for creativity. Exterior wall cladding can made from all kinds of materials but with so many options now available to architects, choosing the correct material for your next design project can be a challenge (albeit, a very fun one). Here we will explore 11 exterior wall cladding design ideas for you to consider on your next project.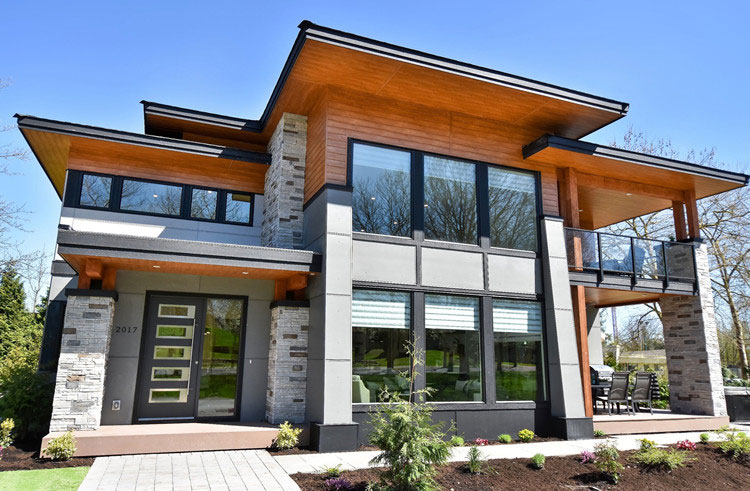 11 EXTERIOR WALL CLADDING DESIGN MATERIALS
1. Slate stone cladding
Slate is a stone material that manifests the current design trend. Slate has a very beautiful look and the multi-layered surface of the DécoR Ardesia Stone offers a three-dimensional feel. Not only that, it is a known fact that slate stone is very durable and wears well over time Ardesia Stone is an astonishing modern natural stone cladding that is perfect for Retaining Walls, pillars and water features for both external and internal applications.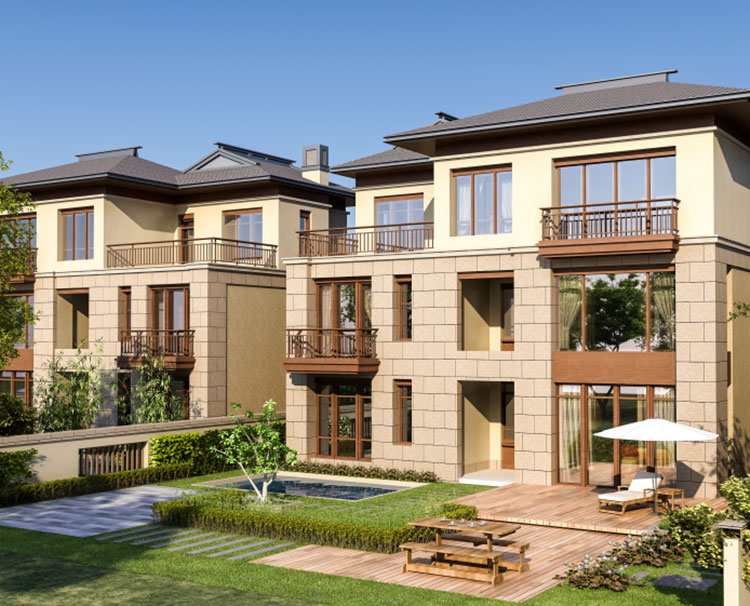 2. slate waterfall wall cladding tile
a wide range of Slate Waterfall Wall Cladding Tiles. Following the precise demands of clients, we offer these products in various designs, styles, finish and color combinations. slate waterfall wall cladding are mostly use in water feature and fontain making. it's give natural look to water fall.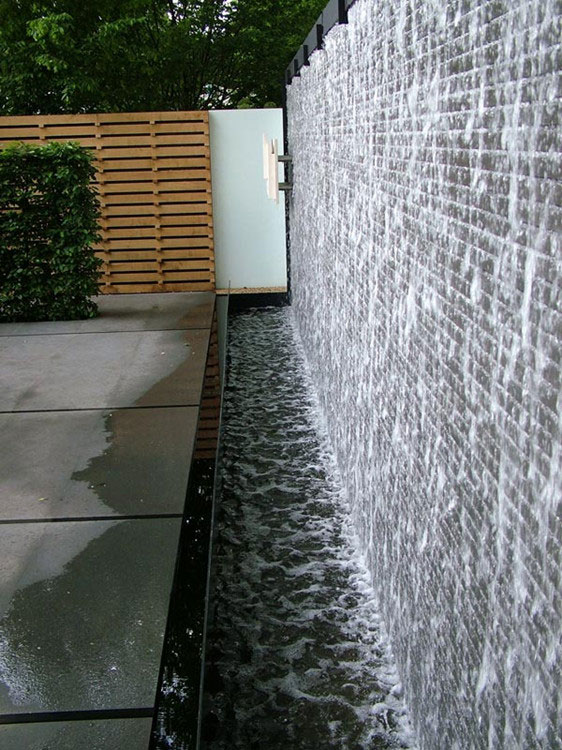 3. Brick cladding
We couldn't write a post about exterior wall cladding design without mentioning classic Brick cladding. Great for houses and commercial buildings alike, the Brick is now available in more colours than ever. Here is one of my personal favourites from manufacturer Vanjoin Group.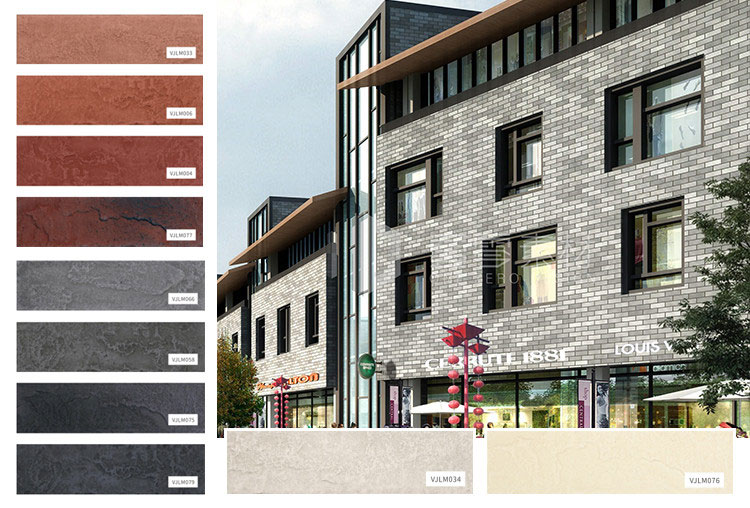 4. Wood cladding
Wood cladding has increased in popularity in recent times as a great sustainable alternative to traditional materials. Wood cladding can give a home an instant style update. This practical, sustainable external finish is available in a wide variety of species, grades and profiles to suit your wall cladding design vision.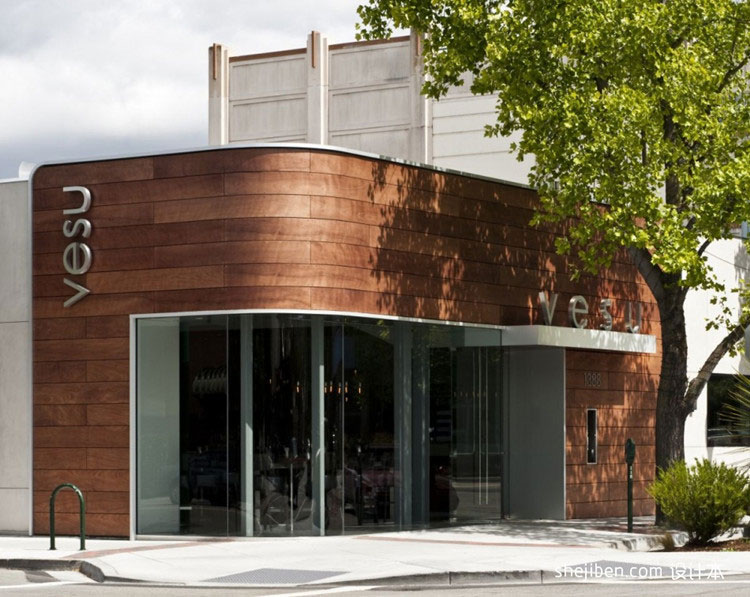 5. Ceramic cladding
Ceramic tiles have been used for wall cladding design since Ancient Egyptian times. In more recent times, terracotta rainscreen cladding and brick slip systems are popular choices for construction projects. Ceramic rainscreen cladding systems are particularly good at protecting the structure of the building from the elements whilst having a nice finish.