Company Introduction
Vanjoin Group is a high-tech building material company specialized in the R&D, production, sales and international of new energy-saving building materials, including precast sandwich wall panels, wall panel making machines, and soft ceramic tiles, etc. We are located in Wuhan City, Hubei Province with production base in Jingshan Economic Development Zone.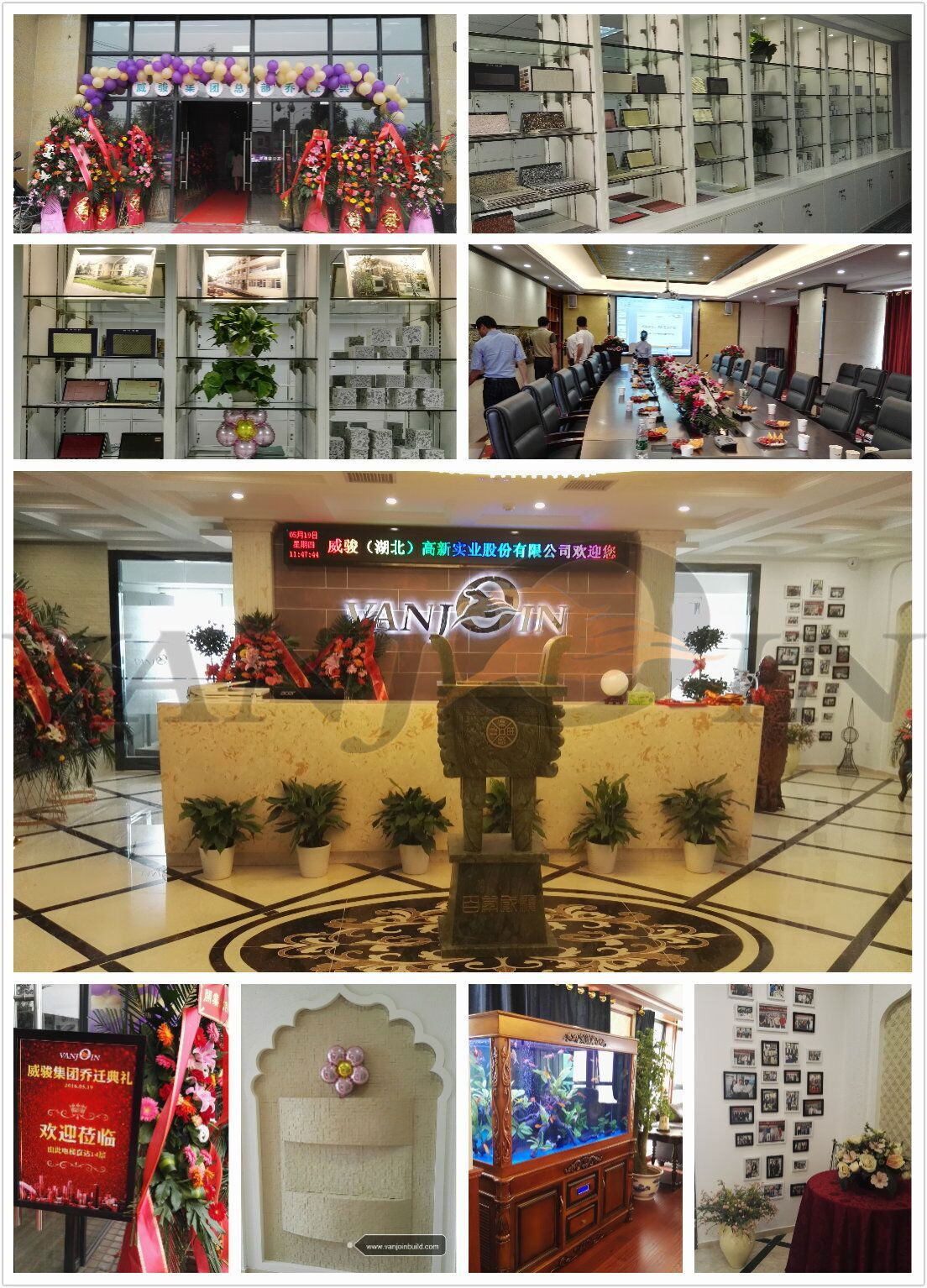 We are specialized in the production of various energy-saving light weight wall materials applied for construction and decoration; Vanjoin light weight compound sandwich panels are with features of energy-saving, light-weight, sound insulation, water proof, fire proof, space-saving, and fast construction time, etc.
It is now widely applied to wall materials of various high and low building such as hotels, office buildings, schools, workshops, residences and so on.The high performance-price ratio of our products attract lots of customers all over the world. Vanjoin have modern enterprise management mechanism, professional administrative staff, scientific decision system, perfect quality control, flexible management system, which enhance Vanjoin's uncreasing development.
We now own a factory with more than 50,000 m2, and our products have been certificated by CE, BV, SGS, ISO9001 & 14000 certificates, having been applied in many domestic major building projects and have been widely exported to UAE, Saudi Arabia, Qatar, Iran, Iraq, Bahrain, Russia, Cyprus, Spain, Portugal, Sweden, Egypt, South Africa, Nigeria, Kenya, Uganda, Australia, Korea, Maldives, India, Indonesia, Brunei, Thailand, Brazil, Chile, Bolivia, Colombia, Panama, St.Vincent and Grenadine, etc.
We are one of the branch of Hubei Vanjoin Group who owns 5 subsidiaries- Wuhan Vanjoin Import & Export Trading Co., Ltd., Hubei Vanjoin Building Co., Ltd., Vanjoin(Wuhan) New Material Co., Ltd., Xuzhou Vanjoin Hardware Tools Manufacturing Co., Ltd., Vanjoin Light Industry Co., Ltd., and 1 branch abroad- SFBL Building company (HongKong) .They are all expanding in a quick manner. Proudly, Vanjoin is a part of Overseas Chinese Federation, and the vice-president of Jiangsu Province Chamber Commerce with offices in the ports of Shanghai, Qingdao, Tianjin, Shenzhen, and Dubai.
Vanjoin is a promising and diversified grouping company, full of vigor and prospect. With more than 300 employees, including 2 PHD graduates, 12 Master graduates, and other staffs whose degree are all above junior college, Vanjoin is a manufacturing and trading company who owns great deal of high level talents. Specializing in the design, production, trading and transportation, Vanjoin is a comprehensive company with excellent prospect. Moreover, the annual import and export turnout of Wuhan Vanjoin Import and Export Trading Co., Ltd. is more than 18 million US dollars.
Weave your dream &Build our homeland! Vanjoin would like to create a new brilliance together with every one of you, our cherished customer and friend!
* 2006 Wuhan Vanjoin Import & Export Trading Co.,Ltd.Founded.
* 2007 Hubei Vanjoin Building Co., Ltd., Founded
* 2010 Xuzhou Vanjoin Hardware Tools Manufacturing Co., Ltd.,Founded
* 2014 Vanjoin(Wuhan) New Material Co., Ltd. Founded
* 2015 Vanjoin Group merger and acquisition
* 2016 Vanjoin Group complete the shareholding system reform
* 2017 Vanjoin Group has been listed with stock code: 872315
Since year 2006, all products are being exported by Wuhan Vanjoin Import & Export Trading Co.,Ltd.
* We are growing every day for the pursuit of bringing full satisfaction to every customer who give us their precious trust and expection. With your nice cooperation and support,
* we will surely grow more gloriously and prospectively.
* We provide high quality building material products for all customers at home and abroad.
* We provide OEM & ODM as per your needs.
* We provide professional after sales service.
* We provide on-site training and installation.
* We provide lifetime technical support and guidance.
* We can collect goods and arrange shipment for old customers.
* We can source related products in the super China market according to your requests.